Volume 6 in the series
Pages: 720
Published: 2011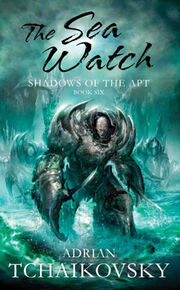 Summary:A shadow is falling over Collegium. Despite the tenuous peace, Stenwold Maker knows that the Empire will return for his city. Even as he tries to prepare for the resurgence of the black and gold, a hidden threat is steadily working against his people. Ships that sail from Collegium's harbour are being attacked, sunk by pirates. Some just go missing . . . Lulled by the spread of lies and false promises Stenwold's allies are falling away from him. He faces betrayal on every side, and the Empire is just waiting for the first sign of weakness to strike. But the Empire is not the only power that has its eyes on Collegium. And even the Wasp-kinden may not be powerful enough to stave off the forces massing in the darkness and turning hungry eyes towards Stenwold's city.
Want It?: Buy It Here
Ad blocker interference detected!
Wikia is a free-to-use site that makes money from advertising. We have a modified experience for viewers using ad blockers

Wikia is not accessible if you've made further modifications. Remove the custom ad blocker rule(s) and the page will load as expected.