Mantids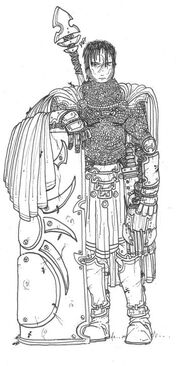 are by far the best warriors amongst the kindred, in the
Lowlands
and beyond, but it is Ants that are acknowledged by all to be the best soldiers. Of average height, but solid and well-built. It is said that there is nothing that Ants like better than fighting other Ants, and the various citie's technology advances only in the direction of things that help them kill ants.
Ant Cities: Aleth, Kes, Maynes, Sarn, Tark, Tsen, Vek
Ant Arts: The Mind-link is synonymous with Ants but they are also somewhat stronger than might be the case otherwise. Some ants are gifted with an acidic grip and others grow bony protusions from their fists.
Subcategories
This category has the following 6 subcategories, out of 6 total.
Pages in category "Ants"
The following 24 pages are in this category, out of 24 total.