Adrian Tchaikovsky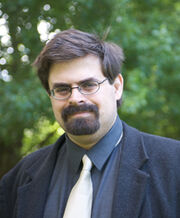 was born in Lincolnshire and studied zoology and psychology at Reading, before practising law in Leeds. He is a keen live role-player and occasional amateur actor and is trained in stage-fighting. His literary influences include Gene Wolfe, Mervyn Peake, China Miéville, Mary Gently, Steven Erikson, Naomi Novak, Scott Lynch and Alan Campbell.
Ad blocker interference detected!
Wikia is a free-to-use site that makes money from advertising. We have a modified experience for viewers using ad blockers

Wikia is not accessible if you've made further modifications. Remove the custom ad blocker rule(s) and the page will load as expected.